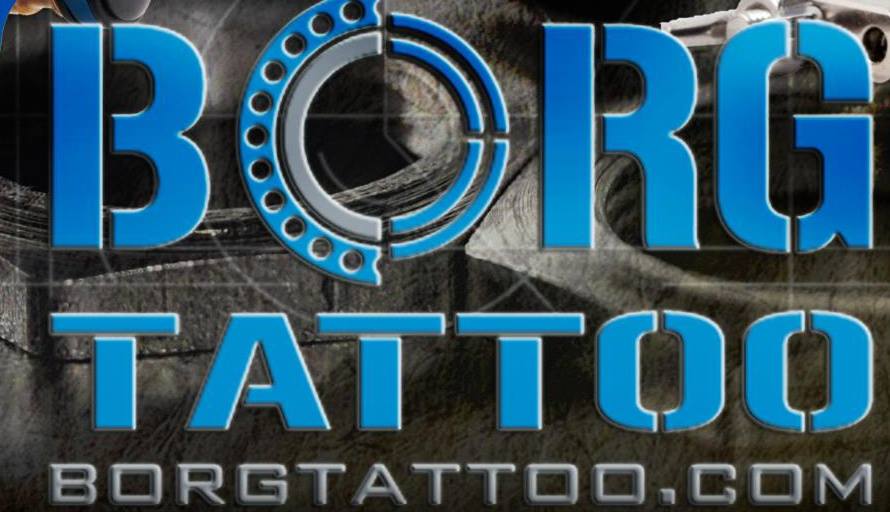 Borg Tattoo machines are all hand made in Hudson Massachusetts at the shops of Borg Design. We take extreme pride in the quality and effort we put into every machine we build. Each machine has our unique and light weight one piece frame. This is the defining part of our machines. No other machine has a frame that is as light weight, strong and balanced in the industry. We then add our hand made coils. We don't use plastic bobbins to wind on we wind directly on the steel. This give us that little extra pop. All of our coils are then covered and protected to give you years of enjoyment and satisfaction.
Our machines weigh in at only 6.7 ounces for the steel version and 5.5 ounces for the aluminum version. Both are made of the highest quality materials and milled on our, in house, CNC Horizontal machining centers. The solid frame construction allows for better electrical flow and superior strength. Liners are set up with .018 cutback front springs and .018 rear springs with a 33uf Capacitor. Color Shaders are set up with .020 front spring and .020 rear spring with a 47uf Capacitor while Black and Grey shaders can be altered to a set up with .020 front spring and .018 rear spring with a 47uf Capacitor. 
All of our machines can be setup up specifically to your needs. We can make them run as fast or slow as you the user would like. We can make them be soft shaders or hard color packing machines. The liners can run fast and hard as you want or run slow and soft. There is no best way to setup a machine, it comes down to how you are used to running your machines. Just tell us how you like them to run and we can set it up for you. For the users who like to tinker with the setups all of our machines can adjusted to run how ever you like.